BUSINESS CONSULTING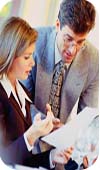 Most businesses eventually need some assistance from qualified and experienced professionals to reach their true potential...Practical hands-on experience running small to mid-sized businesses
Many businesses need some level of development before they are ready to go on the market and BBNY Business Analysts can assist business owners in this task. We have the deep management knowledge and experience level to understand what makes a business successful and can turn almost any business into a "best buy" situation.
BBNY offers a comprehensive portfolio of business services for the business owners of small and mid-sized businesses. Our competencies include new business start-up assistance, turnarounds, exit strategy planning, as well as other critcal business management areas necsssary in running a small to medium sized business.
BBNY Consultants Understand Small Business...Insist on using the Best
Even if you aren't contemplating selling your business, it is always worth critically examining the fundamentals of the business and obtaining an assessment of its value. We will be pleased to put our expertise and wealth of experience at your service to assist you. In addition, a key factor in the growth and management of any business is to have a sound business plan that articulates the strategy to maximize profitability. BBNY BusinessAnalysts assists many small businesses owners in improving their profitability and cash flow performance. We examine all the important attributes of your business to prepare it for sale. We also work equally with business owners that wish to expand and grow thier business through acquisition. We are aligned with many professional organizations who can partner with us to assist our clients in every facet of the process.
BBNY Business Analysts have the experience, expertise and in-depth knowledge to offer the small business owner ways to be more competitive and to maintain a profitable enterprise. BBNY offers a comprehensive range of consuting services to assist the business owner receive the best price for his business:
Consulting Services
Exit Strategy Planning

Preparation for Sale of a Business

Cash Flow Analysis

Declining Sales and/or Profits

Desire to Grow the Business

Obtaining Loans and Financing

Competitive Pressure on Margins

Business Plan Development

Interim Executive Management
To find out more about our business services email us or to schedule an appointment call

585-624-7998

. We are here to help you.